Netherlands vs. Mexico
2014 FIFA World Cup
June 29 | Noon ET | Estádio Castelao, Fortaleza, Brazil
TV: ESPN, Univision, CBC in Canada
Fans and observers have had to rework their projections for both the Netherlands and Mexico after the group stage saw them emerge as two of the best teams in Brazil.
While the Dutch have relied on an explosive attack, powered by superstars Arjen Robben and Robin Van Persie, Mexico have relied on a strong performances from defender Rafael Marquez and goalkeeper Memo Ochoa, who should feel at home in Fortaleza, site of his spectacular shutout against hosts Brazil in the second match of Group A.
Both teams know that awaiting them in the quarterfinals are two unfancied sides: tournament revelation Costa Rica and goal-challenged Greece: "If we can beat them, we will go very far," says Ochoa.
Pues Holanda nos tiene miedo #Futbol #Mundial #Brazil2014 #México #Monterrey #MiIdoloEs #SiMexicoLeGanaAHolanda pic.twitter.com/qnUbaV0hzG

— Abraham González (@Abrahamgzzm) June 27, 2014
---
BEST ATTACK VS. BEST DEFENSE: The Oranje have scored a tournament-high 10 goals, including a stunning five against defending World Cup champs Spain in their opening match. Meanwhile, Mexico have only conceded a single goal, a consolation strike in the final match to Croatia.
But no wonder the Dutch have been on fire. They have a sweet prize awaiting at the end of the line: If they win the World Cup, a Dutch aerospace company has promised them a free trip into space.
HOME AWAY FROM HOME: Only hosts Brazil have had a bigger home-field advantage than Mexico during this World Cup. Supporters of El Tri have turned up in large numbers and they've made their voices heard, including an estimated 500 gathering at the team hotel for its arrival into Fortaleza.
REPLACING THE ROOSTER: El Tri's central holding midfielder Jose "El Gallito" Vazquez is suspended for yellow-card accumulation, but it looks like Herrera has already picked a replacement -- reports say it'll be former Dutch Eredivisie player Carlos Salcido.
For the Netherlands, Robben has been training apart from the team in the lead-up, but he's expected to go. Meanwhile, Leroy Fer has been ruled out with a hamstring injury.
QUINTO PARTIDO: Colorful and ambitious Mexico coach Miguel Herrera, says his team is gunning for the world title. But most Mexico fans just want to see them get over the hump and get into the quarterfinals for a change -- the "Quinto Partido" (5th Match). This is the 6th straight World Cup in which Mexico have advanced into the Round of 16, but each of the previous five times their tournament run has ended there.
But Mexico have a history of raising their game against the bigger names and they should be boosted by the fact that popular Mexican wizard "Brujo Mayor" and a random pig "Pepina" picked them to win.
#Brujomayor predice victoria del #Tri sobre #Holanda - enelareachica http://t.co/v4CTWJBLxA pic.twitter.com/EA09CO7Qsf

— enelareachica (@enelareachica) June 27, 2014
Pepiña en ti confiamos. :) #Mexico #Seleccion #Mundial pic.twitter.com/iMLOaG7iwc

— Jimee Nochebuena (@Jimeebelen) June 27, 2014
WEATHER A FACTOR?: The forecast for Fortaleza on Sunday calls for near 60 degrees, 85 percent humidity and daytime showers. Van Persie still thinks the Mexicans have the edge because of the "conditions they're familiar with."
MASTER TACTICIAN VS. MASTER MOTIVATOR: That's Louis Van Gaal vs. Miguel Herrera in a nutshell. The two managers may share tactical formations in this World Cup, but it's generating different side-effects: Criticism is raining down on Van Gaal for being too conservative, while Herrera looks to be getting a four-year contract extension for the man they call "Piojo."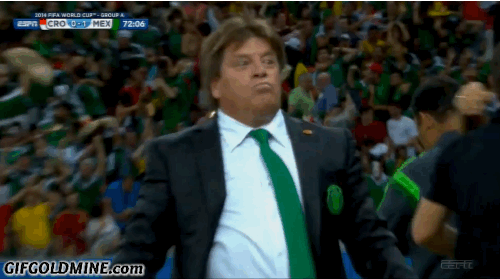 Van Gaal will leave for Manchester United after the Dutch World Cup run is over and he'll become acquainted with his future Red Devils forward Javier "Chicharito" Hernandez.
HISTORY SAYS: The Dutch have a slight edge in the six all-time matches (3-2-1 record), but the only competitive match came in the 1998 World Cup and the Mexicans held their own in a 2-2 tie. The last Mexico win? 1961.
---
THE STAR YOU KNOW
THE PLAYER WHO WILL SURPRISE YOU
Hector Herrera, midfielder, Mexico – No wonder he plays for Porto. He's been one of Mexico's most consistent performers after three matches with quality work on both sides of the ball. Look out for his long-distance shots, which have come close to finding the back of the net.