No Bradley, no Dempsey, and no Bocanegra? Apparently, no problem.
Yes, to be fair, we get it, it was a friendly – although perhaps only in name. And Mexico were without playmaker Giovani dos Santos, forward Oribe Peralta and veteran Calos Salcido.
Regardless, nobody guessed that this would US national team to go into Estadio Azteca and come up with a 1-0 win – their first-ever on Mexican soil in 25 tries.
On paper, it didn't appear to be much of a contest. Mexico were fresh off their Olympic gold medal in London after taking down a stacked Brazilian side, and the United States were doubling down on an already inexperienced backline in one of the most hostile football environments in the world.
But hey, that's why they play the games.
READ: US hero Orozco Fiscal caught up in his historic moment
What, exactly, getting this result without help from three of the biggest US mainstays in the starting XI will mean down the road remains to be seen. What is abundantly apparent with US head coach Jurgen Klinsmann's side, however, is a certain grittiness and willingness to do the dirty work to grind out big-time results. Once, at Italy, could have been a fluke. Twice, however, makes it a trend.
So who stepped up this time around?
Enter Michael Orozco Fiscal. Right place, right time and a game-winner falls into his lap. Are the results pretty? No, not quite yet, but it's a step in the right direction and it starts with Orozco Fiscal getting his first career international goal in a win that was perhaps more important off the pitch than on it.
With that in mind, we highlight three US national team scoring debuts.

3. Juan Agudelo, November 17, 2010 (South Africa)
Talk about an entrance.
In his first international cap, then-17-year-old Agudelo became the youngest US player to score in the modern era when he found the game-winner in a 1-0 win over South Africa in Cape Town.
Agudelo, also the first product of the US Soccer Development Academy to earn an appearance for the senior squad, broke the scoreless deadlock in the 85th minute via combination play with fellow debutant Mix Diskerud. Agudelo took a chipped cross off his thigh before sending a strike with the outside of his right foot into the back of the net.
The current Chivas USA forward became the 46th US player to score in his debut, and the first since Stuart Holden got on the scoresheet against Grenada in July, 2009.

2. Landon Donovan, October 25, 2000 (Mexico)
It was only fitting.
The first tally on Donovan's all-time US goal-scoring list came against none other than El Tri. In a friendly in Los Angeles (above), the then-18-year-old scored the opener in a 2-0 win for the US and introduced himself to the Mexican fans as the player they would soon love to hate.
En route to 49 international goals and counting, his first was significant for reasons that transcended the score line. It not only established himself on the full US squad and confirmed the promise he had shown at the youth levels, it was also instrumental in laying the foundation of the United States' rise within CONCACAF over the past decade.

1. Joe Gaetjens, June 29, 1950 (England)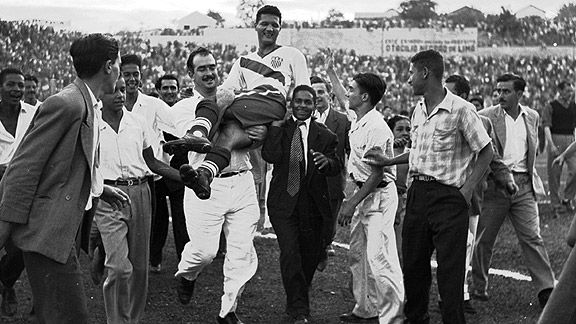 It's hard to even script moments like these.
In group play of the 1950 World Cup, England were heavily favored over an assembly of semi-professional Americans at the Estadio Independencia in Belo Horizonte, Brazil. In a game in which US head coach Bill Jeffrey proclaimed that his side had "no chance," the Americans found the shocking game-winner from the most unlikely of sources.
Gaetjens, a Haitian who was eligible at the time for simply declaring his intent to apply for American citizenship, headed home in the 38th minute off a ball from Walter Bahr to give the United States the improbable victory. Although they would not advance out of the group stage, the victory for the US was one of the biggest in their competitive history.
Those three World Cup games would end up being the only three Gaetjens would ever play in a United States uniform. After one match representing Haiti three years later, Gaetjens would ultimately be captured by the secret police of François Duvalier, the then-president of Haiti, for political reasons. He was presumed to be killed sometime in July of 1964, although his body was never recovered.
In just his short stint with the US national team, Gaetjens helped make a statement to the football world. And while he met an untimely and tragic end, the legend of his lone international goal lives on.