Tim Howard was able to use a hand or foot to save nearly everything in the US national team's narrow Round of 16 defeat to Belgium last Tuesday.
The US goalkeeper is currently on summer vacation before meeting up with his Everton teammates for preseason, but that doesn't mean Howard has stopped making dramatic, last-second saves.
Following his heroic 16-save performance against Belgium, Howard was recently welcomed home by one adoring fan who, let's just say, was feeling a little too much love for Howard, and understandably so.
Handshake: check. Nothing wrong with that. But invade Tim Howard's personal bubble and go in for the around-the-neck hug? You've officially become just another #ThingsTimHowardCouldSave meme.
It's a funny moment, where the fan in question only realizes after Howard rejects his advance, that he was probably be a little bit too weird.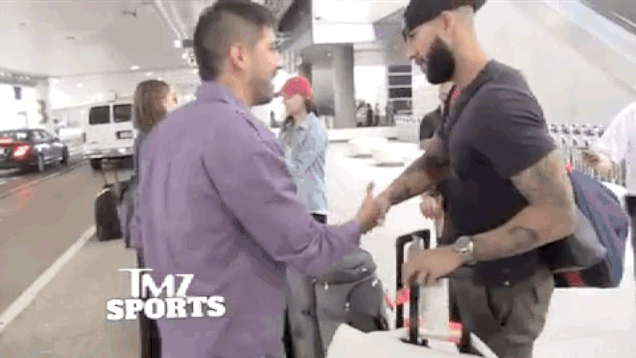 Howard's rejection of hug reminds us an awful lot of Victor Bernardez's cheek-kiss snub from earlier this year.
Remember, star athletes are people, too. And you wouldn't want some random stranger on the streets giving you a hug or a kiss on the cheek, would you?