This is the second of eight World Cup group previews as the days tick away to the tournament opener on June 12 in São Paolo between Brazil and Croatia.
Monday brings Group A and B, Tuesday C and D, Wednesday E and F and, finally, on Friday, the United States' task in Group G gets broken down along with Group H. For comprehensive World Cup coverage, bookmark this page.
---
Spain (1st in FIFA rankings) | First-place finish in UEFA Group I | 28-12-16 all-time, one-time champion
Netherlands (15th) | First-place finish in UEFA Group D | 22-10-11 all-time
Chile (13th) | Third-place finish in CONMEBOL qualifying | 9-6-14 all-time
Australia (59th) | Second-place finish in AFC Group B | 2-3-5 all-time
---
140 CHARACTERS OR LESS
Stiffen the sinews, summon up the blood, disguise fair nature with hard-favour'd rage.
DAVID AND GOLIATH
The "Band of Brothers" in this case is the Spanish national team, which is fighting for a place atop the mountain as the greatest generation of footballers any nation has produced. With a win, they'll take their second straight World Cup (only Pelé's Brazil has done it in the modern era) and fourth straight major (nobody's done it), all while the two clubs that have produced most of La Furia Roja's talent – Barcelona and Real Madrid – have been the two best clubs in Europe. They're already legendary; with another title they become immortal.
On the opposite end of the spectrum is Australia. Like the US, they have their own "football," like the US they call this sport "soccer," and like the US they have a nationwide obesity epidemic. They're pretty easy to root for.
MUST-SEE MATCH
The 2010 final was dire, anti-football from the Netherlands vs. the tika-taka'ing of the Spaniards. While Spain has pretty much kept their group intact – a risk, since they are now incredibly old by World Cup standards – die Oranje have largely rebooted. It's hard to say they'll be out for revenge.
"Hard" doesn't mean "impossible," though, and we love a good narrative as opposed to any actual analysis. So revenge it is! See if the Dutch serve it cold, or if Spain force them to eat another helping of the Paella of Sadness! Or if there's a draw!
It'll probably be a draw.
STAR POWER
Xavi, MF, Spain: I'm not even going to pretend to be rational about Xavi's deterioating physical ability given his advanced age. Nor will I pretend neutrality about his place in the Pantheon of Greats – he's the starting regista on the All-Time Best XI. When he retires, angels won't just weep – they'll rend flesh and destroy empires. Also, "Pirlo" is Italian for "not as good as Xavi."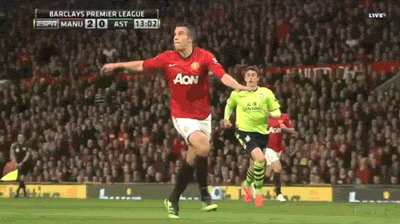 Robin van Persie, F, Netherlands: Van Persie spent much of the 2013-14 season injured, which should actually help him this summer. He'll be fresh, and as long as he remembers to take his thunderbolt of a left foot out of its protective casing before the tournament starts, he's a serious contender for the Golden Boot.
Arturo Vidal, M, Chile: Vidal will be one of the mouthiest players at the World Cup, but he can back up every single bit of it. He's been the best player in Serie A for three seasons running, and is the very definition of a box-to-box midfielder. If he's healthy, he gives Chile a puncher's chance against anyone.
Tim Cahill, F, Australia: It's the last dance for the 34-year-old Cahill, who has done a little bit of everything for the Socceroos in his long and distinguished career. This summer, his job is simple: score off of set pieces. They can't compete with the other teams in this group from the run of play, but all three are weak on restarts. That's where Cahill shines brightest.
NEXT BIG THING...
All four of these teams are uncomfortably old, so even their youngsters are somewhat established. Still, there's one or two of them flying under the radar, so it's not like there's no choices at all.
And that leads me to central midfielder Jordy Clasie of the Netherlands, affectionately referred to in his homeland as "the New Xavi." No pressure.
Clasie, who is already 22 and well established at Feyenoord, will probably earn big minutes this summer thanks to the absence of Kevin Strootman (ACL) and the declining form of, well, everybody else in the Netherlands' central midfield rotation. His ability to control the game with a touch will be invaluable in the heat of the Amazon, and a good performance will put him on the shopping list of almost every giant club in Europe.
X-FACTOR
Heat, humidity, and the discomfort of playing outside of Europe. Only one European team has ever won the Cup outside of Europe (Spain in South Africa in 2010), which means – yes – no European team has ever won the Cup in South America. Spain and the Netherlands are perennial favorites, but my gut says that all of Europe is in for a rude awakening this month.
And that means Chile has a great, honking opportunity sitting right there for the taking. They are a relentless pressure team with quality from back to front, and a match-winner in Vidal. While the rest of the group will be adjusting, La Roja will be capitalizing
RANDOM FACT
The Funnel-Web spider, which is indigenous to Australia, isn't actually an animal: It is the beta test of a Lovecraftian nightmare, one that challenges humankind's will to live. It is also further proof that every creature in Australia is trying to kill you. Even the freaking platypus is venomous.
SIX DEGREES OF MLS
That David Villa guy sure is a nice first signing. He'll go to work on the other side of the Hudson from Cahill, and give MLS fans a preview of the Greater New York City Metropolitan Area Derby. And I'm going to pretend that San Jose are on the verge of signing Andrés Iniesta (they're not) because I'd like to see him in person every week for the rest of my life.
Also worth noting that Dutch midfielder Nigel de Jong – one of the few things in the world deadlier than the funnel-web spider – once broke Stu Holden's leg. That's de Jong at right, making what was deemed to be a perfectly legitimate play on the ball in the 2010 final.
PREDICTION
One of the two European teams will melt down in the group stage, and I'm putting my money on the Netherlands. First, because it's what they do every other tourney. And second, because it will send Manchester United fans into hysterics (the bad kind) as they wait for Louis van Gaal to come and take over an already listing ship. Narratives!
Chile go through, as do Spain – and then the real work begins. Winning back-to-back World Cups is insanely difficult, which is why only one team has ever done it in the post-war era.
You may be riding high on No. 1, but you want to stick the landing on No. 2? That's going to take talent, luck, and a willingness to fail. Spectacularly if necessary.