What will you remember about the year in soccer that is just about to come to a close?
Our friends at KICKTV have good memories, so they've got a list about a mile long. But after some serious coercion and mild flogging, they pared it down to 13 GIFs from the world of soccer for the year that was.
Let's dive in:
---
1. When Arturo Vidal and the ground got in a fight:
Still a good shout for a PK.
---
2. When Deuce did Deuce things:
This one made our MLS list as well!
---
3. When a pitch-invading fan in Miami wouldn't let go of Ronaldo
Also, this is the beginning of Cristiano's second career as a defense attorney.
---
4. When Landon Donovan picked up shades a Panamanian fan had thrown at him
Laughing security guy in the background makes it even better.
---
5. When Kolo Touré and Lee Cattermole had a moment
Boys will be boys.
---
6. When a college football kicker busted out a rabona
Got to think he'd seen the Dempsey GIF.
---
7. When this little girl predicted a 5-0 scoreline with Suarez
She did not have the last laugh.
---
8. When Marvin Chávez made the ground shake
Our 2013 MLS GIF of the Year!
---
9. When Neymar was attacked by Ryu in the middle of a game
Click HERE for alternate takes.
---
10. When Tahiti made paddling on a boat seem like Nirvana
They may have lost, but they won our hearts.
---
11. When Luis Suárez got hungry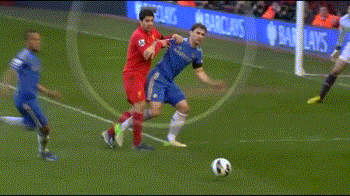 **INSERT FOOD PUN HERE**
---
12. When Pogba defied physics
He did it with science.
---
13. When Zlatan broke the sound barrier
Got to be the GIF of the Year, right? 2013 will be remembered for a lot of things – indomitable Bayern Munich, Ronaldinho finding the Fountain of Youth in the Copa Libertadores, Donovan finding his own in Cambodia.
But this is a strike that will last forever, from a striker who's undoubtedly one of the best ever to play the game.
And – just maybe – coming soon to an MLS team near you.