Brace yourself. This is about to get totally ridiculous.
It's called Silly Season for a reason, folks. No rumor is too outlandish and no name is safe from being dropped in headlines.
But it's a new year and I'm feeling particularly frisky this week, so I'm going to go nuts here and let you judge me. In honor of the transfer window opening, I decided to draw up a starting lineup (and bench) of my favorite names that have been linked to moves to Major League Soccer in one way or another over the past five years or so.
Keep in mind, this isn't an objectively based all-star squad – and even that's debatable. This is just one man's wish list of a team of familiar names that coulda, shoulda, maybe woulda ended up in MLS if the dice had rolled differently.
I'm sure you'll have thoughts one way or the other, so by all means, comment away at the bottom. Here we go – and of course, I'm going with a 4-3-3. It's so hot right now...
GK: Brad Friedel. It's amazing this guy is still such a cult hero in America that fans are still clamoring for an MLS return for the former Crew netminder, even at age 41. But that yearning is probably stronger than any concrete move home for the Ohio native, who says he's committed to Tottenham Hotspur in any capacity, despite dropping behind Hugo Lloris in the depth chart. We'll always have Korea, Brad.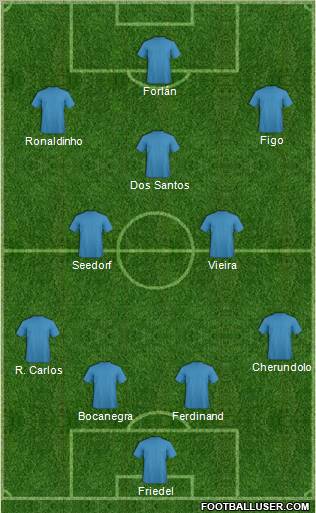 CB: Carlos Bocanegra. In a similar boat as Friedel, though he's actually said outright he wants to end his career in MLS. Many thought for sure that Vancouver had a shot at landing him when they sat atop the Allocation Order last season, and that pairing with World Cup teammate Jay DeMerit was too tasty a proposition. But it didn't happen, and the former Fire man moved from imploding Rangers to Racing Santander.
CB: Rio Ferdinand. Supposedly, Chicago wanted him toward the tail end of 2011, but the Fire shot those rumors down. Then they went out and got a different 30-something World Cup veteran in Arne Friedrich. Worked out OK, I'd say.
RB: Steve Cherundolo. Arguably the most important defensive player to the US national team over the past four-plus years. And the dude has never played professionally over here since joining Hannover all the way back in 1999. Hard to believe. He says he wants to come home, but not until after next summer's World Cup ... when he'll be 35. Sigh.
LB: Roberto Carlos. Seriously, does this need an explanation? Sure, he was nearly 38 the last time this rumor surfaced, but man, I could watch this goal all day, every day.
RM: Patrick Vieira. Really the only guy on this list with any kind of holding midfielder tendencies, and that's still asking a lot for a guy who's now retired but once had eyes for joining his countryman Thierry Henry in New York and was linked to Montreal only last spring. You want to picture the dominator of the Arsenal "Invincibles" era. Though he could've been a nice ambassador for the Impact in their inaugural MLS season – a bilingual, smart guy you could easily see as an eventual assistant coach.
LM: Clarence Seedorf. What a trip it was to see this dude in a Galaxy uniform last summer, even if he was just training to stay fit before signing with Botafogo in Brazil. He was linked to MLS repeatedly over the past several years, too, including with those same Impact. What a silky operator he was back in the day. And so intelligent and introspective, he could be an adjunct professor somewhere.
ACM: Giovani dos Santos. OK, I know what you're thinking. Not Kaká?!? For me, it's got to be Gio running the point. When he's in the right environment, surrounded by the right teammates and coached by the right people, he's unbelievable. His ridiculous chip shot in Mexico's thrashing of the of US in the 2011 Gold Cup is just sublime, and when it comes to popularity among Mexican and Mexican-American fans, he's probably second only to Chicharito these days. Sporting KC supposedly chased him last summer, and there were whispers that San Jose and Houston had made inquiries back in the day. No one's getting him now.
LW: Ronaldinho. The Galaxy supposedly tried to get him. Then they allegedly tried again. To no avail. Before Messi-mania, Ronnie was the guy in world football and was a god at Barcelona. He's found most of that magic again back at Atlético Mineiro in his homeland. Sure would've been fun to see that toothy grin terrorizing defenses in MLS.
RW: Luís Figo. Class in a glass, as Ray Hudson likes to say. A smooth combination of touch, creativity and explosiveness that would've been the envy of any team in MLS. Figo told me himself once upon a time that he wanted to try the league out. And he kept considering it. Age got the best of him, finally.
CF: Diego Forlán. So many good choices here, and it was hard to keep a bruising marksman like Didier Drogba off the pitch. But for me, I watched what Forlán did in South Africa three years ago and I salivate for a player who relies on cunning, guile, positioning and pure intelligence to obliterate defenses like he did in Uruguay's improbable semifinal run. That goes much further in MLS, and Forlán could play until he's 40. He was linked to Seattle a couple of years ago, and I'd like to think that somehow, an MLS team could still pry him loose from Internacional of Brazil.
Bench: Jens Lehmann, Kevin McKenna, Juan Sebastián Verón, Juan Román Riquelme, Kaká, Didier Drogba, Andriy Shevchenko. Yes, I'm pandering to the Canadian vote with McKenna, who I think would add more value to the league than, say, Richard Dunne. I couldn't keep Verón and Riquelme off this team, and I wish they had made it here. The rest are as self-explanatory as Lehmann's madness is predictable.
Coach: José Mourinho. He said it. He's Special. What more is there to say?
Jonah Freedman is the managing editor of MLSsoccer.com. "The Throw-In" appears every Thursday.